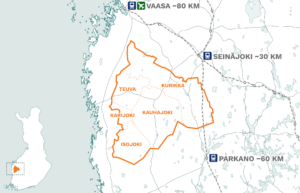 The Suupohja area (incl. Kurikka) is located in southern Ostrobothnia. The area is bordered in the south by Satakunta and Pirkanmaa, and in the west by Ostrobothnia.
The best way to get to us is by your own car. The most convenient way of transportation within the area is also by car. For each municipality in the region: There are bus connections to Isojoki, Karijoki, Kauhajoki, Kurikka, and Teuva, although, for example, there are fewer buses running outside the school semesters. For example, with the popular OnniBus, you can get to Lake Jalasjärvi in Kurikka.
The nearest railway stations are in Seinäjoki, about 30 km from Kurikka and about 60 km from Kauhajoki, and in Parkano. The nearest airport is in Vaasa. It is about 70 km from Kurikka and 100 km from Kauhajoki.
The distances within the area are short and the roads are good. During the day, you can easily visit more than one destination, even if they are located in different municipalities.